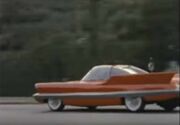 The Baxley was a vehicle designed by Preston Baxley 30 years prior to the Viper timeline. Intimidated for its high mileage at the time, Berlin Petroleum pressured investors to back out, causing the project to shutdown.
Oil slick spray
Digital ignition switch requiring a secret code
The Baxley is a 1955 Lincoln Futura concept car, which was later modified by George Barris into Batmobile for the 1966-1968 Batman TV series. The car used in the episode is a replica made by Bob Butts in early 1990s.
As a reference to Futura being used as the Batmobile, when Joe asks "What is this, Frankie, did you actually trade in the Cuda for a current model?" - in the German dub, Joe instead asks "Was ist los, Frankie, hast du dein Barracuda gegen Batmans wagen eingetauscht?" - "What's up, Frankie, did you trade in the Cuda for Batman's car?"
As a child, The Baxley was the first model car Julian (and Ella) ever built.